MEET LYDIA
The Culinary Adventurer & Events Specialist
MEET LYDIA
The Culinary Adventurer & Events Specialist
Meet Lydia: The Culinary Adventurer and Events Specialist at

rooms

4

groups

!
Meet Lydia, our vivacious Events Specialist here at rooms4groups. She's a culinary enthusiast with an insatiable wanderlust, a knack for organisation, and a love for the mountains. Let's dive into her world of sumptuous Italian food, dreamy destinations, and expert travel tips.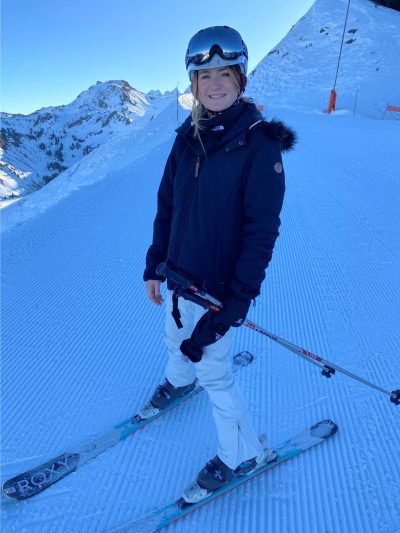 Italy: A Love Affair
When asked about her favourite holiday destination, Lydia doesn't hesitate. "Italy, Italy, Italy!!" she exclaims with infectious enthusiasm. Italy has captured her heart, from the mouthwatering food to the stunning architecture and breathtaking scenery. And let's not forget the gorgeous weather!
Thailand: The Dream Yet to be Fulfilled
If there's one place Lydia is yearning to visit, it's the exotic landscapes of Thailand. A trip was planned in 2020, but like many of us, COVID halted her plans. But Lydia isn't one to be easily discouraged. As she puts it, "We are now waiting for our 2-year-old to get a little older before embarking on that long flight again!" With her husband's insider knowledge of fantastic local spots, this trip promises to be an unforgettable adventure.
Northern Lights or a Volcano: Lydia's Bucket List
Lydia's dream landmark isn't a single place but two natural wonders: the ethereal Northern Lights and the raw power of a volcano. Her choices reflect her adventurous spirit and love for extraordinary experiences.
A Folder, Not a Roller
When it comes to packing, Lydia's a folder. Her suitcase leaves the country looking "beautiful and neat" but returns as a "crazy mess." Who can't relate to that?
Off the Beaten Path
While some people love the hustle and bustle of tourist hubs, Lydia prefers less travelled places. She loves to meander through local neighbourhoods, discovering hidden gems and immersing herself in the local culture.
Mountains over Beaches or Cities
Is it a city break or a beach break? For Lydia, it's neither. She is a mountain girl at heart. "We love to ski, and I love the mountains," she shares. Now, that's a woman who isn't afraid to break the rules!
Italian Cuisine: The Way to Lydia's Heart
Italian food reigns supreme for Lydia. In fact, she dreams of attending an Italian cookery course one day. Can you imagine the delicious leftovers she'll be bringing to the office?
Deserted Island Essentials
If Lydia found herself on a deserted island, she'd want a good book, a guitar, and her family. Her priorities are clear – in the joy of simple pleasures and the company of loved ones.
Tip: Snacks, Snacks, Snacks!
As a mum of two, Lydia's top travel tip is all about keeping those little tummies happy. "Snacks, snacks, snacks – for flights, transfers! Keeps them quiet and happy!" she advises.
From her love for Italy and her dream to visit Thailand to her packing habits and survival essentials, Lydia's responses paint a picture of a vibrant, adventurous woman with a zest for life and a love for exploration. As our Events Specialist, she brings this same energy and passion to rooms4groups, creating unforgettable experiences for our clients.